The fear of going from rags-to-riches drives many families to build a generational wealth plan for better stewardship of wealth. Besides relying on inheritance, individuals opt for other financial security alternatives like transferring wealth with life insurance.
However, many individuals prefer customisable insurance products as they offer guaranteed long-term wealth and coverage. Those unsure about the great wealth transfer process or the merit of life insurance policy to build generational wealth may require assistance understanding how it works. This is where you come in.
Read along to determine how you can help policy buyers to build generational wealth through a life insurance policy.
A life insurance policy for a wealth transfer enables policyholders access tax-effective means to transfer funds to children and grandchildren. It also helps save money on probate and estate. Similarly, this is suited for those who are pursuing these financial goals.
What Is Transferring Wealth With Life Insurance Policy?
One is a retiree with accumulated wealth that will last them a lifetime.

If they have a goal to leave a bigger legacy for their family without using traditional means of investment

They have been looking for a tax-efficient means of transferring wealth to the next generation

They like the idea of maximizing the assets bypassing your estate

The idea of controlling assets until passing them down is a priority

Top Strategies To Build Wealth Using Life Insurance
When an individual has money, they might buy life insurance and other financial products to maximize the perks of asset distribution to spouses, partners, children and charities.
Typically, a will or a trust assigns assets to one's beneficiaries. However, these tools are not essentially crafted to help them with wealth creation.
Notably, there are 3 ways you can help policy buyers use life insurance for it:
Usually, individuals get a life insurance policy so their family can receive the death benefit and remain financially independent in their absence.

Individuals can get their parents insured and put themselves as the beneficiary. In such a case, the insured would get the death benefit when they die. However, to do so, the beneficiary has to obtain permission from the insured and show an insurable interest, like proof that the insured's death can cause financial loss.

Those willing to sell their insurance policy to get their hands on the money early may opt for a partial settlement when needed. Though this isn't a wealth creation strategy, it's an excellent example of early access to wealth from an insurance policy. Notably, the insurance policy settlement firm that buys the policy does so to make a profit.

Benefits Of A Life Insurance Policy For Their Generational Wealth Planning
Here's how policy buyers could benefit from a life insurance policy plan:
Generally, insurance policyholders pay a premium amount in exchange for a larger payout in the event of death. With life insurance, you pay a premium in exchange for what will likely be a larger payout in the event of death. Leveraging premium offers positive returns on outlays for designated beneficiaries. A life insurance policy can help meet family one's wealth goals and be a great complement to their investment portfolio along with other financial products.
Depending on your pick of insurance policy, guaranteed death benefits and guaranteed annual premiums can offer certainty about the cost of coverage. Also, guarantees come with the backing of the issuing carrier's financial strength. This is why economic stability is essential when one looks for a life insurance policy provider. Besides guaranteed returns on premiums, policyholders also benefit from accruing dividends, which boosts returns on premiums.
Unlike complex wealth planning products affected by taxes, creditor risks, and probate, a life insurance policy is simple.
Unlike income tax on savings, the beneficiary generally receives the death benefit from the insurance policy without any tax implication in UAE. The proceeds are not included in the gross income of the recipient. If the recipient is from outside the Gulf Cooperation Council (GCC), then it's zero-rated.
The proceeds from a life insurance policy are paid to the beneficiary, avoiding delays and legal expenses. Funds are typically paid after a claim form and a death certificate is submitted for claim settlement. Notably, policyholders can change beneficiaries as and when required. This is much simpler than updating and executing a given codicil to a will or for estate planning.
Also, the death benefit one receives from a policy could be exempt from creditor claims and outstanding claims against its beneficiaries.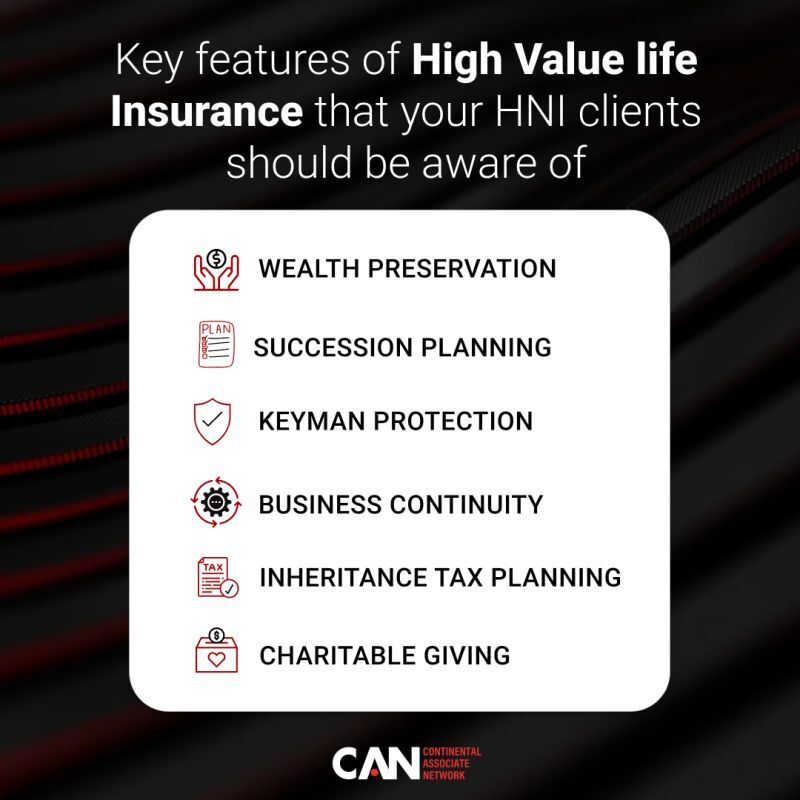 Key Benefits Of An Insurance Policy For Wealth Creation In A Nutshell:
Receiving the inheritance of the funds incurred from the insurance policy without tax implications could help push a family to a better economic status.

In case of premature death, having a life insurance policy can help the family tide over their expenses and help them live a decent life. Some choose a term life insurance policy to access a larger amount of coverage that is more affordable.

Besides the death benefit, permanent life insurance helps accumulate cash value. Insured can tap the money for their financial need and could help account for their child's education.

The cash value can come in handy to weather a financial emergency, whether medical or business. Insured can also take out a loan against their insurance policy. Notably, the interest charged will be lower than one would pay to the lenders with or without collateral.
With the help of CAN, you can access top insurance and financial services solutions from experienced professionals. Being a leading licensed insurance intermediary and financial solution provider in the UAE, we can help financial institutions engage with top clients and offer them remodeled advanced strategies to offer tailored advice on transferring wealth with life insurance.
Single Premium Life Insurance Policy In Brief
A single premium life insurance policy is considered a valuable investment in wealth transfer or creation. In this insurance policy, the insured has to deposit a single premium that creates a death benefit guaranteed till the insured's death.
Notably, the death benefit depends on the deposited amount, age, gender, and the age of the insured's health. Younger insureds are more likely to get a higher benefit. For example, a 67-year-old healthy and a non-smoker woman who deposits $100K as a single premium could pass $200K in death benefit.
Role Of Single Premium Life Insurance For Financial Stability
A single premium life insurance policy's cash value multiplies and offers income when required. The insured can also surrender the insurance policy for cash value. The insured is guaranteed investment back, even if they need to surrender the insurance policy during an emergency.
Life Insurance Policy Cashouts
Some policies come with the accelerated death benefit option that is used to pay for long-term coverage. For instance, invoking the insured rider can avoid premium payments linked with traditional long-term policy plans. Notably, such an insurance policy can help improve their estate in 2 distinct ways. The insurance policy plan can pass increased wealth to the plan's beneficiary or help an estate avoid costs linked with long-term care.
The Choices For Elderlies
Simplified underwriting enables many senior citizens to qualify for a life insurance policy. The process does not need any physical work or examination and can be done over a simple telephonic conversation and the answers provided on the application. Above all, purchasing a single premium life insurance policy is quite easy, and those who think they are in good health can opt for advanced underwriting. By doing so, the elderly will qualify to increase their insurance policy benefits.
While any permanent insurance works, the most common ones are the whole life and universal ones that allow accumulation of cash value tax-sheltered and help defer tax till withdrawal.
Get in touch with Continental Associate Network now to understand how to help clients connect better with life insurance policies and streamline the process of transferring wealth with life insurance in the smoothest possible way.